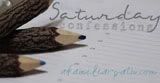 A couple of bloggers I enjoy do "Saturday Confessions" so I thought I would join in and use this simple idea to break the
writers
blogger's block I've been suffering from. I apologize that I left off early in the Monday and Tuesday series -- I will get back to it this week. Please don't give up on me. :)
Click the widget here to see other
confessions.
#1
I'm rather glad the end to a long and intense testing season has come (see my
business blog
). I enjoy my job, but I'm about brain dead. In a couple of weeks I'll miss the income, but right now it is a relief to have more free time.
#2
I'm glad I didn't follow my childhood goal of becoming a veterinarian. We had some drama here two weeks ago when a much larger dog attacked our sweet Susie Q --after breaking up the attack and seeing the damage, I almost threw up. I'm so thankful for the emergency vet and our own wonderful vet group for the great care Susie received.
It really was touch and go for several days as she developed an infection. I'll spare you a close up view of the damage. Here she is feeling much better after getting her many stitches out this morning and having a good bath. The cone has to be on for another couple of days.
#3 I'm glad Ginger has returned from her solo adventure helping our friends in Maine with their preschoolers. We were all stressed in the days leading up to her leaving. Note - if you start to tear up while checking your 15 year old daughter's bag, the agent will give you a gate pass to walk her all the way back to board the plane!
#4
We missed her, we really did; but here's the confession: in the 14 days Ginger was gone - B and I ate out so often we lost count, did half the laundry loads, and enjoyed not tripping over cleats/sandels/running shoes/bags/etc every time we walked through the front door.
#5 I'm glad we live at a lower latitude -- here's the picture Ginger sent me from Maine. It's 4:45 AM in this photo and the sun has been FULLY up since 3:50. She said it was easily as bright as it is at 9 am in NC. It would be hard to hit the snooze button if that much sun was coming through the window.
It is a little overcast because, after all, it is Maine. The first week she was there it was 40 F and foggy and the second week it was 70 F and sunny. Here in NC? The high 90's F every day and HUMID!
I suppose one should consider that a trade off?
#6
Very little work is getting done here today because the Woman's World Cup only comes around once every 4 years.
#7
I secretly hope the Pastor doesn't get long-winded tomorrow because the US plays Brazil at 11:30 (we start early and get out around 11:30 so we should be able to make it home for the second half).
#8 Unless my children, the US, or NCSU is playing, I find it hard to pull for just one team in any game. My family hates it when I flip flop on who I'm pulling for based on who appears to be the underdog.
#9
I had my Explorer detailed this past week and found two Library audio books under the the back seat! I wonder how long they have been there and what the fine is going to be?
#10
The highlight of my TV week (other than the World Cup) was the start of the new summer season of
Say Yes to the Dress - Atlanta
. My daughter and I consider it a study in human behavior and "how not to act" when someone you love is shopping for their wedding dress. The
Atlanta
version is far more entertaining than the NY version because the people remind us so much of our relatives.
#11
I STILL haven't waded into the disaster that ought to be my school/office .......did I mention I've been working a lot and the World Cup is on?
#12
I'm struggling with phone envy -- I bought myself a DROID 2 for my birthday (only after discovering that I got a big ole discount on the monthly data plan). I loved it right up until my husband fell in the river and, as a result, had to get a new DROID Thunderbolt. It looks like a TV screen it is so sharp and clear! Then our son upgraded to a newer model DROID as well -- Then my daughter-in-law got an iPhone. I just need to focus on the fact that my previous phone was an LG that I bought in 2006.
Thanks for sticking with me - I promise to get back to my series and reviews next week. I can announce now that I was chosen to be on The Old Schoolhouse Review Crew (TOS CREW) again this year. Look for some more new product reviews all through the year.
Have a good weekend.